Steel tanks

Reservoir equipment: types and species. Metal reservoirs. Manufacturing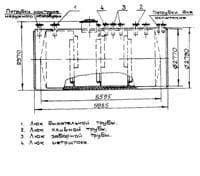 Manufacturing of containers is the leading production line of our company. Metal tanks are designed for stationary storage of various liquids, including oil and oil products. The vessels consist of a metal cylindrical shaped frames equipped with technical hatches and metallic nipples. Metal constructions are reinforced with welded ribs (diaphragms) during the manufacturing
Reservoirs for oil products storing: diesel, gasoline, fuel and POL tanks.
Oil products storing tanks designed for underground or over-ground storage of oil products, fuels (gasoline, diesel fuel), POL and oil are produced according to Technical conditions code of Ukraine 78 260.001-93
Fuel tanks for petrol stations. Manufacturing of reservoirs for tank farms

Fuel tanks for petrol stations are designed for receiving and storing of fuel: gasoline, diesel fuel at petrol stations (gas stations).
Steel horizontal and vertical, single-and double-walled, single-section, two-piece or multi sectional containers for petrol are produced in volume of 5, 10, 15, 25, 30, 40, 50, 60, 75 cubic meters.
Underground double-walled reservoirs for petrol stations. Reservoir with double wall.
Double-walled tanks are used for receiving, storing and distribution of light and dark colored oil products and stocks at gas stations and oil storage tanks. Double wall construction: frame consists of two waterproof vessels, located one inside of other.
Share